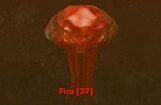 Fish are mob creatures that roam the map. You can find them everywhere. Even in a Station's safe zone.
Fish levels range from 2 at the lowest to 133 at the highest (excluding boss fish), with many many different variations. The higher a fish's level, the harder it hits. The highest level fish hit around 4,000 damage per shot.
Boss Fish
Edit
Boss fish are mean, tough, and hit hard. It can take up to 3 people to kill 1 boss fish. When a boss fish is killed, it will respawn an hour later. Boss fish also sometimes have smaller fish guarding them, making the boss more difficult to kill.